To automate the outreach process and manage everything efficiently, you need blogger outreach tools.
In this post, we will give a list of the 7 best blogger outreach tools that can help you to streamline the process.
List of Best Blogger Outreach Tools to Find Link Building Opportunities
Blogger Outreach is the best practice for making connections with bloggers in different industries and elevating the online presence of a website. Here we have recommended the best blogger outreach tools that you can use for your link building campaign.
1. BuzzStream
BuzzStream is a game-changing solution for word-of-mouth marketing campaigns that generate buzz, drive traffic, and build links for your website.
With a focus on inbound marketing channels, BuzzStream helps you "be found" and effectively targets 55% of small businesses and 32% of mid-sized enterprises. Its built-in automatic prospecting enables lightning-fast creation of qualified lists, while web browsing allows seamless research for new opportunities.
Gain valuable insights on website authority, social metrics, and contact information at a glance, effortlessly expanding your database.
Streamline your outreach with highly-personalized emails at scale and track conversations in BuzzStream's powerful CRM.
Measure campaign performance with deep analytics, monitoring open rates, reply rates, and more. BuzzStream offers an all-in-one solution to elevate the success of your word-of-mouth marketing endeavors.
Best Features of BuzzStream
Lead collection through its browser extension

Segmentation of leads based on various criteria

Email integration for composing and scheduling emails

Customizable email templates

Follow-up campaign management

Detailed reports for campaign analysis
2. Pitchbox
Pitchbox stands as the ultimate solution for in-house marketing teams, brands, and SEO agencies, revolutionizing influencer outreach and link building. This cutting-edge platform empowers you to streamline and optimize your link-building and outreach efforts like never before. Uncover a multitude of valuable link-building opportunities and effortlessly identify top-notch bloggers and influencers in record time.
Elevate your response rates through highly personalized outreach emails and strategic follow-ups. With advanced SEO integrations and comprehensive outreach analytics, Pitchbox empowers you to make informed, data-driven decisions. Bid farewell to mundane tasks and propel your link-building endeavors to new heights with Pitchbox.
In terms of market segment, Pitchbox caters to 78% of small businesses and 18% of mid-market enterprises, ensuring a diverse and impactful user base.
Best Features of Picthbox
Campaign

Pipeline

Link monitoring
3. BuzzSumo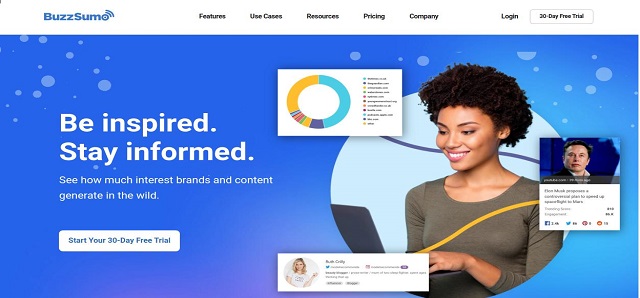 BuzzSumo is a content marketing platform utilized by over 1,133 companies, predominantly in the US Marketing and Advertising industry. It helps generate fresh content ideas and offers digital PR and influencer marketing tools.
By leveraging cross-platform search capabilities, users can identify influential bloggers and journalists in their niche. The platform allows filtering based on follower counts and domain authority to pinpoint the most valuable prospects. BuzzSumo's alert system notifies users of brand mentions and influencer content, facilitating swift action and stronger relationships.
With its comprehensive features, BuzzSumo provides a streamlined and efficient solution for content marketing and influencer outreach.
Best features of BuzzSumo:
Most Shared Content Report

Content Analysis

Real-Time Monitoring

Influencer Research

Content Discovery

Competitor Analysis

Social Analytics

Alerts
4. Mailshake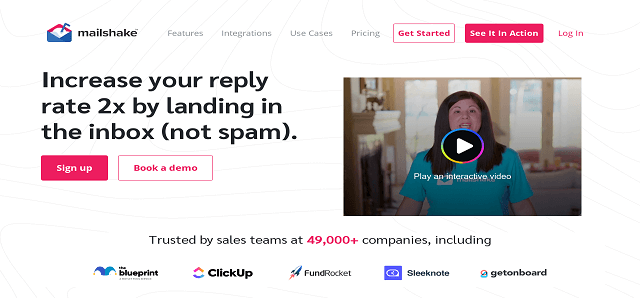 Mailshake is a powerful outreach tool focused on link-building campaigns. It streamlines cold email campaigns by automating processes and providing valuable insights.
With Mailshake, you can effortlessly discover new leads, connect via email and cold calls, and track performance. Its Lead Catcher feature prioritizes top prospects, while the Shakespeare AI-powered email writer generates high-performing copy based on extensive data analysis.
This user-friendly tool revolutionizes outreach by saving time and ensuring impactful communication. With Mailshake, you can supercharge your link-building efforts and achieve exceptional results.
Best Features of Mailshake
Mail Merge

Scheduled Emails

Drip Campaigns

Lead Catcher
5. Ninja Outreach
Ninja Outreach, the leading platform for influencer marketing, offers a revolutionary solution for businesses aiming to maximize their outreach campaigns. With its cutting-edge features, Ninja Outreach has the ability to sift through millions of influencers, identifying those that align perfectly with a company's goals and objectives.
One of the standout features of Ninja Outreach is its effortless access to the business profiles of countless influencers. With just a single click, marketers gain immediate access to comprehensive information, streamlining the research process and saving valuable time. Furthermore, Ninja Outreach's built-in email management features enable users to build a substantial email database swiftly, ensuring effective communication with influencers.
For enterprises managing extensive operations or catering to multiple prominent clients, Ninja Outreach provides a built-in CRM solution.
Best Features of Ninja Outreach:
Business lead generation

Segmentation

Schedule emails

Status reports & follow-ups

Social media outreach
6. Respona
With Respona's suite of features, companies can effortlessly connect with pertinent publications within their industry, effectively promoting their brand, acquiring valuable backlinks, and enhancing their rankings on Google.
This versatile platform facilitates real-time identification of outreach opportunities, automates email sequences, ensures access to reliable and verified contact information, and leverages Respona's AI assistant for personalized campaign strategies.
Respona caters to a diverse market segment, with 67% of its user base comprising small businesses and 31% representing mid-market enterprises.
Best Features of Respona
Integration with Google and Bing

Easy-to-use email finder:

Intuitive interface

Built-in analytics and reporting

Email personalization with article snippets
7. GroupHigh
Catering to both small businesses (44%) and enterprises (28%), GroupHigh offers a versatile solution for a diverse market segment. Its intelligent algorithms enable users to effortlessly discover the most suitable outreach channels, including social media platforms and blogs, ensuring targeted and effective engagement.
With comprehensive analytics and reporting tools, GroupHigh empowers marketers to gain valuable insights into the reach and impact of their campaigns. Organizations can make data-driven decisions and optimize their influencer strategies by measuring metrics such as engagement, impressions, and conversions.
Best Features of GroupHigh
Research data

Automate outlet research

Business intelligence
What are blogger outreach tools, and why should I use them?
Blogger outreach tools are software or platforms that help automate and streamline the process of finding and connecting with influential bloggers.
How can blogger outreach tools help my marketing efforts?
Using blogger outreach tools can save time, improve efficiency, and enhance the effectiveness of your marketing efforts by expanding your reach and building relationships with influential bloggers.
What is the benefit of blogger outreach?
The benefits of blogger outreach include increasing brand visibility, driving traffic to your website, gaining valuable backlinks, and leveraging the authority and trust of influential bloggers to enhance your brand's reputation.
Conclusion
Finally, utilizing the right blogger outreach tools can significantly enhance your link building efforts in 2023. These tools offer time-saving automation, increased efficiency, and expanded reach. By leveraging influential bloggers, you can boost brand visibility, drive traffic, gain backlinks, and enhance your brand's reputation. At Outreach Freaks we offer 100% genuine blogger outreach services for brands and agencies. We help you to acquire links from high-authority sites and make your presence strong in search engines.